We are sad to share that Sunday, June 7th will be the last day our Ogden 6 Theatre in Naperville will be open. The Ogden 6 Theatre will be open Friday through Sunday for
To Go orders
. Feel free to stop by this weekend for some fresh popcorn and to say goodbye to the theatre.
We've put together a compilation of memories and photos shared by guests from the last 43 years at the Ogden 6 Theatre. It's our way of saying farewell to the theatre and to say thank you to the Naperville community. We've enjoyed serving you since we took ownership of the theatre in 1996 and hope to see you soon at our other locations.
A TRIBUTE TO THE OGDEN 6 THEATRE

Kevin K.
In the days before smartphones, I went to a movie with a friend, and when the movie let out, her car wouldn't start. The manager ended up finding a tow truck for us, and while we were waiting, he gave us a tour of the theater including the projection booth. I can't see anyone from a big corporate chain theater doing the same. I'm sad it's closing and hope you guys find a new location.
Dana Nicole K. 
This was my first job! Worked here for 2 years and it will always hold a special place in my heart ❤️
Effie H.
My husband and I used to always go here on date nights when we were engaged and lived in Naperville.

 
Dan Z.
I saw my first movie there (Top Gun) and took my daughter to see her first movie there (Storks). It was our favorite place to go and will be missed. 😢
Fathy E.
It is very sad to hear that you guys are closing 😰... My first movie was The Girl on the Train in 2016.
Bird B.
Every experience we had at your theater... too many to count... was special. Thank you.
Debbie G-H.
❤️ love your theatre 🎭!!! So sad you're going to be leaving!!!
Mila Z.
Seeing my first ever movie there. And also almost getting kicked out as a teen cause we were laughing too much and someone told haha.
Bradley C.
Seeing all eight "Harry Potter" movies, all three Spider-Man movies with Tobey Maguire, etc.
Steve S.
What a loss to the community. Grew up going to Ogden 6 High School junior high, first kiss in the theater, many many memories many many friends...
Margaret W.
This is a tremendous loss for this community. Thank you for the years of great memories!
Mary K.
Very sad, so many family movie nights and days spent there over the years. Best popcorn ever from CC. 
Michele D.
My high school years were spent at this theatre. A lot of great memories! ❤️❤️
Valerie G.
I saw Dirty Dancing there 3 times. It was only a dollar then.
Georgiann Q.
I've been going there since I was a child and I'm 50 now!!
Celeste N.
So many memories here and 100% became my go-to once you guys renovated. Had the BEST experience with Avengers End Game here. Thank you 💖
Amy Jo M. 
This was one of our families favorite places before we moved. The girls loved going and getting Icee's and popcorn. Back then we had a limited budget so we loved it and everyone was always so friendly.
Lori L.
My family has been going to your theater almost every Wednesday night for years. Sorry to see you close. The end of an era. 😢
Jessenia F.
I worked for Willis, Shirley, and Chris for a few years but when my girls were younger, we would ALWAYS make sure we knew what the summer movies were going to be so we could make sure to attend the movies we hadn't seen. I love the refills! I love the old school vibe you have in every location! 
Good luck in your future endeavors
Susan U.
We loved your theater! We actually moved away from the area before you completed the remodel - so we didn't even get to enjoy the comfy seats! I grew up in Downers Grove and lived in the area until 2016 until we moved to the Peoria area - thankfully our little town has a theater that reminds me very much of Ogden 6 (though smaller with only 2 screens). I remember when you were a '2nd run' theater but still loved it!
Mike V.
I remember growing up and watching movies there with my parents and as a kid the Easter egg hunts that used to go on at the theater.
Regina M.
Our boys saw their very first "big" movie at Ogden 6. They loved everything about it, especially the kids' snack trays. As they have gotten bigger, their favorite part is reclining in the comfy, heated seats, and sending mom for refills throughout the movie! We love Ogden 6 and are so sad to say goodbye. We hope you find a new location soon!
Barb K. 
Our family moved to Naperville in 1985 and were thrilled to find Ogden Theater. We have been enjoying it ever since. Loved your employees and were amazed at the remodel. So sad to see you close. Best wishes.
Erin Z.
I remember going here growing up with my dad and brothers. We loved this place so much. My boyfriend and I were hoping to take our kids here. You guys will be missed.
Pat G.
My son's 1st job. He worked at the cinema for several years. His manager was an Oscar winner! My son was treated so well. He was promoted to supervisor. His abilities were recognized. What a great experience and a positive start to his work career.
Stephanie C.
I'm so sad. This was our go-to place for movies. Also, a place where I could take my kids and their friends for an affordably fun day any time of the year. You will be missed 😢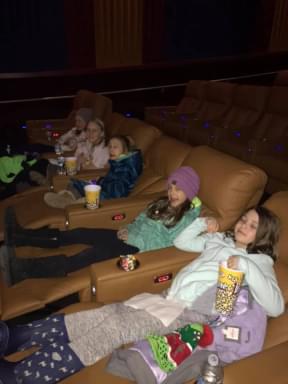 Ellie L.
We are so sad that you're leaving. Best of luck to you guys. My husband and I brought our kids there for their 1st movie which was Frozen. They were 3 and 4 and devoured their 1st movie popcorn.

Amy C.
Of course, anytime we went to was a great memory! But shortly after you renovated my husband and I got so excited about the new seats we were apparently too loud for our kids. They both said, "geez, be quiet!" 😀

Dana K.
This was my first job! Worked here for 2 years and it will always hold a special place in my heart ❤️

Matt W. 
Basically every movie I saw when I was a little kid was at Ogden 6. Even living in South Naperville in the 80s, it was the closest theater. SO many memories. You'll be missed.

Bird B.
Every experience we had at your theater... too many to count... was special. Thank you.

Matt W.
We had just potty trained my son. It was the best part of the movie and then he had to go, so we missed the best part 😂

Debbie C-N.
My now-husband and I saw our first movie together there. "Best in Show"

Geoffrey W. 
Every movie I've seen since I was at least six years old...TRON in 1982, Starman in 1984, Transformers: The Movie In 1986, the re-release of Raiders Of The Lost Ark in 2012, to the last movie my wife and I saw there-The Sound Of Music-and all movies in between. Taking my daughters there to see movies since they were very young...My youngest daughter saw her very first movie on the big screen-2006's Curious George-at this wonderful theater! We are so very sad that it is going away but we hope and pray that it will be relocated somewhere in Naperville! This theater will be so very missed by my family and I! Thank you for all of the wonderful memories!

Randy R.
I will turn 35 in August & have been coming to this theater since I was 8. I attended my first film there in 1993. There were countless memories made there & it would be impossible to name them all. It has been my #1 & favorite place to see a movie. My girlfriend & I celebrated many date nights & this past holiday season there as well. It will be truly missed in every way, shape & form. Thank you for the memories, adventures, smiles, laughter & happiness that will last a lifetime. It was a blessing to have y'all part of the community & I'm so thankful & lucky to have experienced it. I hope y'all are able to relocate & continue being a community staple.

Asma W.
So many wonderful memories!!!! We have been coming there for 16 years. Breaks my heart 💔

Classic Cinemas. All rights reserved 2020.